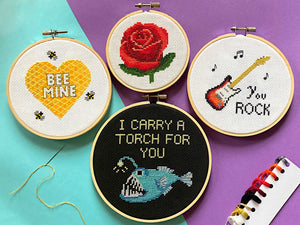 With Valentine's Day approaching I thought I'd take you through some of our Valentine's themed kits. These would make a lovely gift that could be extra special if you have sewn it yourself. While these kits are suitable for beginners, they are a bit more difficult, with some backstitch and fractional stitches.
---
• beginner tips • cross stitch
This post is for anyone thinking of getting into cross stitch or about to start their first cross stitch project.
When I got back into cross stitch, I hadn't done any since I was very young and under supervision so getting back into it I found a few things I didn't remember or were different to my expectations.
---
• beginner tips • cross stitch
As it is a new year and many people have new year's resolutions to try something new or learn a new skill, I thought I would start with some advice for beginners choosing their first cross stitch kit or pattern. This blog includes 7 things to look for when choosing your first kit or pattern and some recommendations of our best beginner kits.